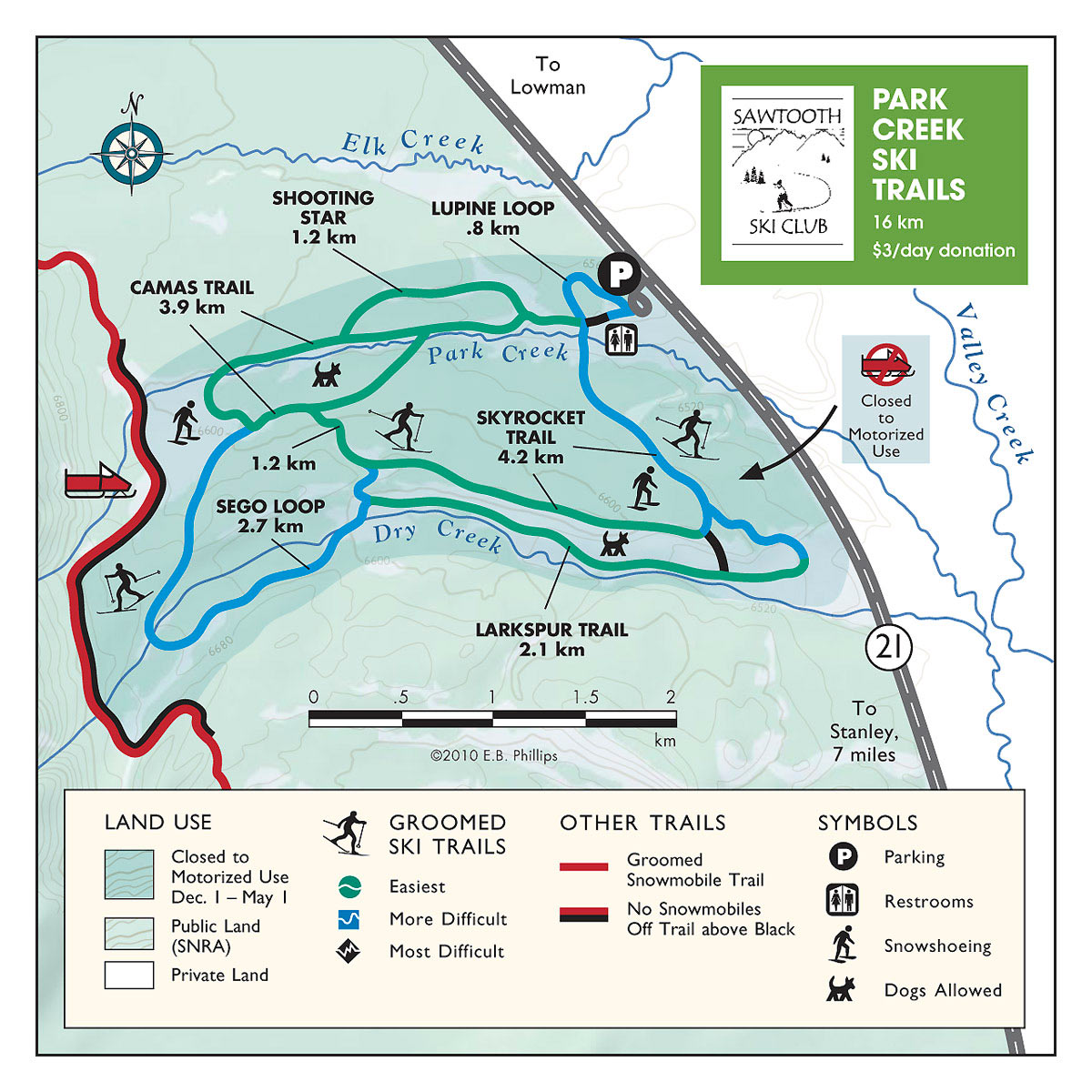 If you enjoy the challenge and solitude of winter's quieter pursuits, there are miles and miles of groomed trails to explore by ski or snowshoe – and you're likely to find yourself alone on your journey. Given the rugged and remote nature of the Sawtooths, the area is still a well-kept secret that is often left to dedicated adventurers, especially during weekdays when many people are still slogging through their workdays. While visitors do frequent the area, the wide open spaces and extended trails offer excellent escapes from busier areas to our South.
Park Creek Ski Area
Park Creek is an area just to the northwest of Stanley, near Stanley Lake. This great location provides an excellent viewpoint that overlooks the northern edge of the Sawtooths and offers easy to moderate pathways that weave through the forested valley floor. There are several options that interconnect throughout this system of trails, providing a unique view and challenge to a variety of different skill levels. You may even witness an elk or other animals wandering in the deep snow nearby.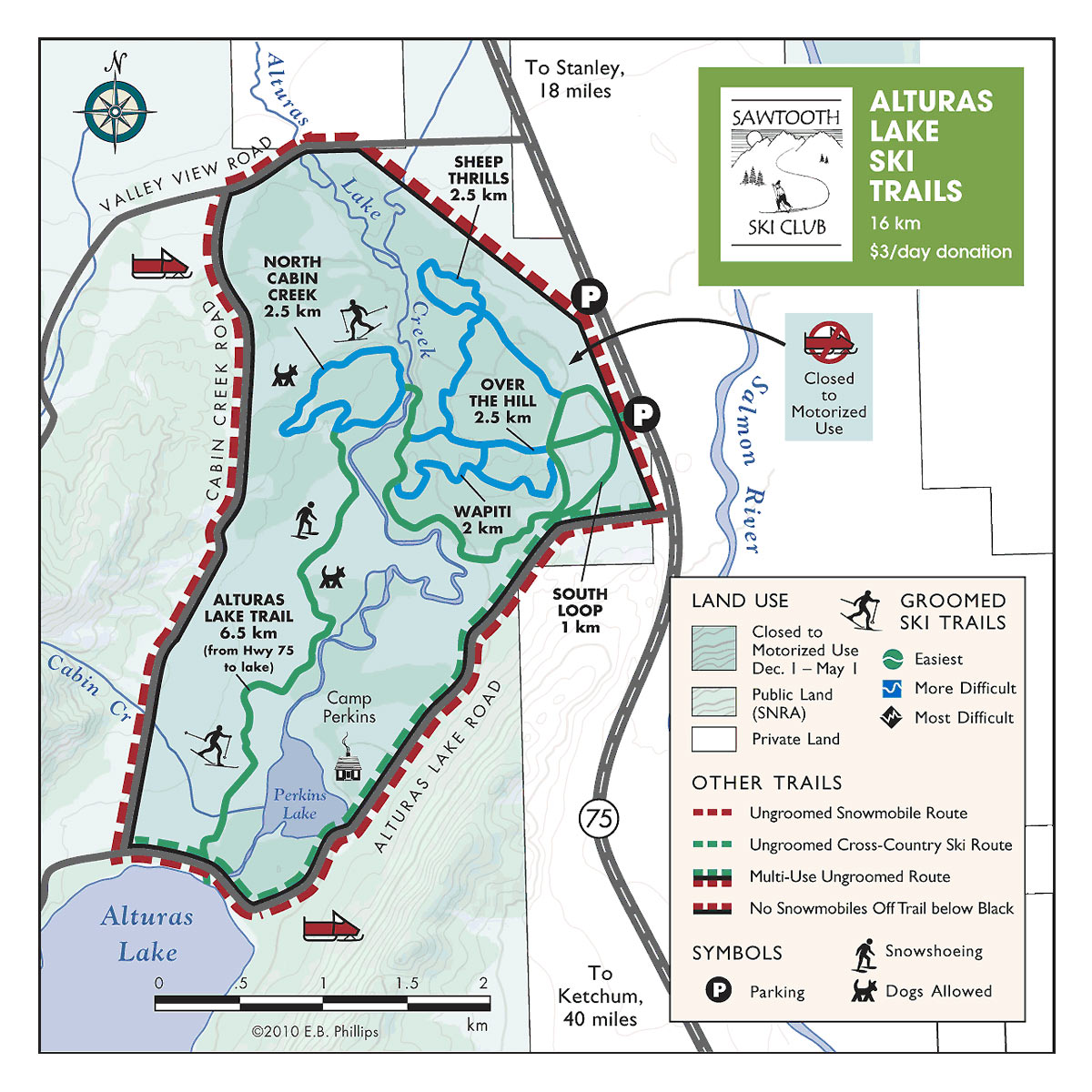 Alturas Lake Ski Area

Alturas Lake offers a well-groomed, well-managed space for exploration at the Sawtooths' southern edge. This beautiful region offers more rolling scenery, along with some very fun and approachable trails. Access to this system is more extended, requiring entry from Highway 75 – but the views and groomed paths are well worth it. Given that this area is a bit closer to Ketchum, it sees a few more visitors.
Redfish Lake

Redfish Lake is a memorable setting for many generations of Idahoans, which makes it a popular stop for winter adventurers. While that doesn't mean it's busy or crowded by any means, you are more likely to see someone along this path than the others. That's likely due to the amazing views at Little Redfish Lake and Redfish Lake, as well as the fun, quiet experience of wandering around the Lodge, Campgrounds, Visitor Center, and Docks while surrounded by frozen, snowy white. There's no beach time for a few more months!
Stanley Lake
Another popular and incredibly scenic area spot is Stanley Lake. This gorgeous natural setting has been featured on posters, calendars, postcards, and the web for years and years because it is one of the most amazing settings Idaho has to offer. And that doesn't change in the wintertime. If you can brave the extended, but groomed trail that accesses the area you'll be rewarded with stunning photographs and breathtaking peace – and you'll probably feel like you have it all to yourself. How much better can you get?
There are definitely a few other groomed trails and fun locations to scout around during your next visit to Stanley, Idaho, but these are some of our favorites. Be sure to stop into the Mountain Village Lodge and Restaurant to chat up our friendly crew of local experts. You're sure to get some great advice and make a good friend in the process – and we'll be excited to have you.
https://www.mountainvillage.com/wp-content/uploads/2015/05/wordpress-login-logo-v21.png
0
0
Mandy Clark
https://www.mountainvillage.com/wp-content/uploads/2015/05/wordpress-login-logo-v21.png
Mandy Clark
2017-01-19 13:54:31
2017-01-19 14:38:22
Excellent Groomed Trails